No I did not make that up – it was coined by a journalist reporting on the World Travel Market and it seems that these Middle Aged Men in Lycra are going to be a force to be reckoned with in world tourism.
Here is the post –
"As for the middle-aged men in Lyrca, WTM is predicting that cycling will rival golf for leisure time of middle-aged men in the Americas. Golf is in a decline, dropping from 25 million players in the early 2000s to 19 million in 2013." (Alexandra Talty)
Well if that is the case one can only hope that the MAMIL's (Middle Aged Men in Lycra) have more dress sense than their golfing buddies.

Well maybe that is a little unfair – there are some pretty handsome golfers out there.


No – not that one – that's not even a proper outfit Mr Daly.
But men in lycra – even middle aged…. that has a different ring to it.


(This is actually Tony Abbott who was the 28th Prime Minister of Australia.  You see anyone can be a MAMIL and he does it rather well.)
So  how does this growing trend affect us "other" travellers?  Well first of all I am sure they won't be wearing lycra on the flight.  Will they?  Probably not!  But if they are serious cyclists they are going to want to take their own bike which takes up quite a bit more room than golf clubs.

And if you happen to be married to a MAMIL and travel with them then where the heck are you going to store that bike in your hotel room?

Other difficulties abound.  Either you are going to arrive in Europe and then cycle around from place to place which means carrying a back pack with all your belongings (i.e. extra lycra outfits, casual lycra for country pub evenings out, formal lycra and then those spare helmets in matching colours).  You would probably end up looking like this.

Hey guys – where's the lycra.  I think the trick is with the MAMIL's is that they don't ride across country – they just do day rides.  That way they can get to a nice hotel and spend a comfortable evening.  That's what middle aged people do.  No need to be cycling the roads with all your worldly possessions lashed onto you and your bike.
Now there is a way to do this – to kill two birds with one stone.  Get together with some like minded lycra clad people and go on a top class cycle tour.  This way you can enjoy the roads during the day, stay in super little boutique hotels every evening and have your luggage schlepped from one place to another.  Now that's sensible.  And think how much pasta you can eat when you have been pedal-pushing all day!  An incentive I can live with.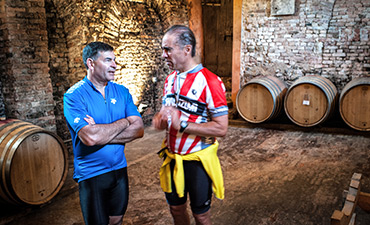 Now that's better – RWDMAMIL's…
(in other words – Relaxed Wine Drinking Middle Aged Men In Lycra)